Again, I followed directions and tried to change my background, but it never changes on the screen. I don't know what else to do but stick with this or just start all over.
Anyway, Feb 1 starts a
Month of Letters Challenge
and I am all for it! I will mail my first one Wednesday, maybe a postcard, although I have a ton of correspondence to catch up on. Write me back-we'll be pen pals, dude for sure!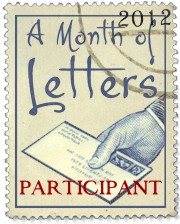 Day 1- Belated BD card to brother
Day 2- Thank you note to friend
Day 3- card to sister (almost forgot to mail!)
Day 4- card to another sister
Day 5-note to pen pal
Day 6-letter to aunt
Day 7-card to friend
Day 8-get well card to niece
Day 9-card to sister
Day 10-card to other sister
Day 11- Valentine Swap
Day 12- letter to sister
Day 13-letter to sister
Day 14-card to sister in law
Day 15- postcard to cousin
Day 16-friend
Day 17-friend
Day 18-friend
Day 19-friend